How can I reuse or recycle old towels?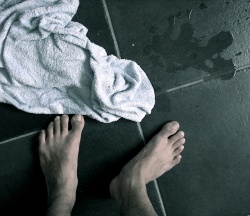 For some reason, all our towels have decided to go threadbare at exactly the same time. Well, when I say "ALL our towels", I mean the top two bathsheets and hand towels that are in the endless use/wash/cupboard/use/wash… cycle – the ones underneath those in the stack are, presumably, fine since we've not used them for years (we're not thoughtful enough to rotate stuff like that).
So anyway, we have a holey bathsheet and two holey handtowels – both gone in pretty much the centre and in patches elsewhere – so my initial idea of chopping them down into flannels/smaller towels has been somewhat eliminated.
Any suggestions about how they can be reborn? Any crafts/upcycling ideas?
Best Suggestions
Reduce Make your towels last longer by hanging them in a well ventilated place to dry between uses (so they don't get damp & smelly as quickly) and after washing, line dry them rather than using a tumble dryer – like with clothes, the intensity of washing & machine drying damages the fabric over time. (Also avoid using too much fabric softener – the chemical deposits quickly build up and make towels hard and scratchy.)
Pass Them On: Animal shelters use a lot of towels – unless they're completely falling apart, they'd probably welcome a donation.
Reuse: Reclaim as much fabric as you can and turn it into a bath mitt, a dog tug toy, or a rag rug bath mat. If there aren't any big enough pieces for that type of thing, cut it into small pieces and use it for toy/cushion stuffing.
Recycle: Towels are usually 100% cotton and the fabric can often be reclaimed. Look for textile recycling bins in your area.
(Photo by jellofishy, c/o sxc.hu)
Related Categories
bathroom
,
clothes and fabric
,
items
Search for other related items