How can I reuse or recycle lemon juice (Jif) plastic lemons?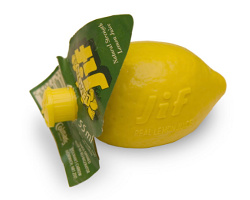 For some reason, our local supermarket has stopped selling lemon juice in sensible containers and only sells it in plastic lemon-shaped bottles now. (Not actually Jif lemons but similar, with a flat bottom.)
We had to buy a couple of those annoying plastic lemons to tide us over until we can get to another shop to buy it in a lovely, recyclable glass bottle.
Admittedly we could squeeze it fresh – we generally need it in small quantities (a tsp or so at a time) – but we could freeze it (in half ice cube amounts, then once frozen, crack them out of the cubes into a baggie to save space) — but after last week's marmalade & lemon curd making, I'm not sure how much more citrus fruit squeezing my poor hands can take ;) (I will do it though if this lemon juice in plastic lemons situation continues.)
According to the plastic lemon, it can be recycled – but doesn't give a resin code number so I don't know what type of plastic it is.
So any reusing or recycling ideas?
(Photo by Paul Hurst under the CCA-SA licence)
Related Categories
items
,
kitchen
,
packaging
Search for other related items