How can I reuse or recycle scraps of chicken wire?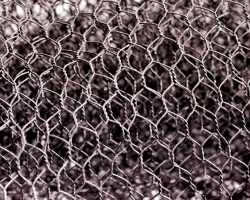 We've had an email from Bruce:
I've got a large amount of chicken wire leftover after conducting some work in my garden. The biggest 1ft by 2ft, the rest smaller. Can I recycle them in my can bin?
While it certainly could be recycled as scrap metal, it might cause problems further down the can recycling line if you add it to your recycling bin, particularly if your recycling is sorted by machinery. If that bin is your only way of getting it into the recycling system, it might be worth contacting the recycling people at your local council and seeing what they advise (every council is different). Other than that, roaming scrap metal collectors are becoming more common again and most tips/household waste and recycling centres have scrap metal bins.
What about reuses? If you've got room to store it, it could be used for patching holes in the future and I know many sculptors use it to make wire frames for their work too. Other suggestions?
(Photo by Elné Burgers
Related Categories
garden
,
items
Search for other related items