How can I reuse or recycle … an old wire waste paper bin?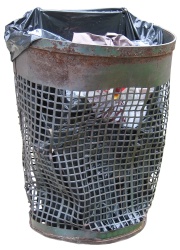 Had an email from Brian Hunting:
I've got an office waste paper bin, the wire framed sort, that's gone rusty. After it left rust stains on the carpet my wife banned it from the house.
I thought about making it into a hanging basket for the garden but think it'll be too deep as is and I don't know if I'll be able to cut it down without losing its shape. I wondered if your readers had any better suggestions instead.
So then?
(Original photo by brokenarts)
Related Categories
household
,
items
,
office
Search for other related items