Recycle This turns 4!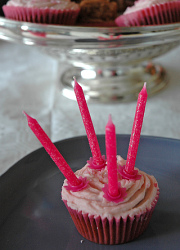 I usually forget about Recycle This's birthday and only remember in a rush of guilt a few weeks afterwards but for once I remembered – Recycle This is four year old today!
As I mention on the About page, we were inspired to make the site after eating a bowl of pistachio nuts and wondering what we could do with the shells. We came up with the idea one night and just about 12 hours later, the site was up and running!
In the last four years, we've covered nearly 800 items and had nearly inspiring 11,000 ideas in reply, been mentioned in the national & international press on numerous occasions, and I've had hundreds of interesting e-conversations with wonderful people from all over the world.
Thank you all so much for making these past four years so much fun!
(Photo by Joccay)
Related Categories
news
Search for other related items