Recycle This turns five!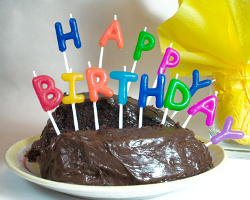 I mentioned on Twitter yesterday that it was Recycle This's fifth birthday earlier this week – we launched on the 24th April 2006.
In the intervening five years, I've published 1026 posts about reusing and recycling random stuff. We've had over 14,000 suggestions/comments (and 1,259,497 attempted spam comments! ;) ) and had about 5million people visit the site — not bad for an idea I had in the bath :)
In those five years, recycling as a concept as boomed – nearly all local authorities in the UK offer extensive kerbside collections now, packaging is getting better (both in terms of labelling and using more easily recyclable materials to start with) and there are tons of recycling information websites now, and upcycling crafts are very popular too. There is still a long way to go – but it's great to see that progress is being made.
I've (virtually and in real life) met so many lovely people as a result of the site and heard so many fantastic recycling ideas that I couldn't possible begin to pick favourites – but I would like to say a big thank you to everyone who has sent over a question or added an suggestion, idea or advice — you're all super wonderful :)
I did hope to have a new fancy design finished as a birthday present for the site but that's … not happened. It should happen some time in the next few months though – and I've got some new ideas for the site too. Stay tuned :)
Related Categories
admin
Search for other related items