How can I reuse or recycle … French presses/cafetières/coffee plungers?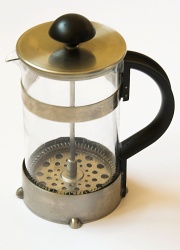 We've had an email from Jesse with a suggestion:
I use a French Press for making coffee in the morning, but I've gone through them in the past because they eventually crack.
Well, my most recent one finally cracked because of the dishwasher (my mistake…) but now what do I do with it? I've been searching the internet for an idea, and came across your site. any help?
We've had this problem in the past too (John being the clumsy dishwasher to blame here) so any suggestions? I guess as different bits will break for different people, suggestions can be for either the plunger bit or the body.
(Photo by Gerbera)
Related Categories
household
,
items
,
kitchen
Search for other related items