International Women's Day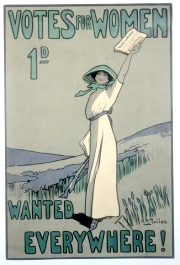 Today, the 8th of March, is International Women's Day.
I'm not really one for Days or similar events because I dislike the way it compartmentalises action or thought and I have particular dislike for International Women's Day because I don't feel like I need a special day to celebrate being a woman and our achievements – I've got 365 of them a year.
But International Women's Day isn't for me. It's not for me with my education, my career, my IUS, and the roof over my head which I jointly own with my truly-a-partner partner. For example, this year's IWD is to focus attention to the hardships women face when displaced during armed conflict – and how they often overcome such hardships to rebuild homes and their communities.
Why am I talking about this on a reusing and recycling website? Because it's all part of the same picture. Yesterday in the Observer, there was a report about how many recently war-torn countries in Africa are being ripped apart again – this time by food companies wanting to construct giant greenhouses to feed us mange tout (pun intended). The people in the worst situations are the ones being exploited to feed us summer veg all year around, to clothe us in £4 fall-apart jeans and provide us with endless consumer items which will end up in landfill within weeks. By living more sustainably over here, we help people throughout the world.
Inspired by IWD today, this week is going to be a little different on Recycle This – we'll still be thinking about reducing, reusing and recycling but focused around women's health & sexual health – and we've got some great giveaways! Stay tuned!
Related Categories
news
Search for other related items