How can I reuse or recycle fingernail clippings?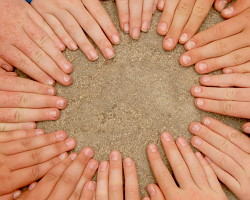 Ok, this may be another one that will make some people squirm and go "ick! ick! just throw them away!!" but it's Friday and I'm in a silly mood so hear me out:
We each have things that make us that bit different from the next person (not necessarily unique but a bit different) and one of those things for me is that I can … scratch my bum/thighs REALLY loudly. I don't know why. I like to think of it as some genetic gift: some people are great artists or gymnasts, I'm good at scratching REALLY loudly. I suspect I just hold my hand in a certain way that amplifies the sound but my second special thing might contribute to it too: my fingernails grow pretty fast – I'm not a freak, just my nails seem to grow about 3mm a week, compared to the average 1-2mm. Loud scratching AND slightly faster than average nail growth! I'm like a super hero!
ANYWAY, what this means is that each week, I have a pile of nail clippings. Since I keep my fingernails polish-free, they can be composted (they take a while to breakdown though) but I was wondering if anyone had any other suggestions.
I suspect, if I harvested enough of them, I could use them as slug protection, like eggs shells around precious plants. Any other ideas? Silly, sensible, practical or creative – any ideas are welcome :)
(By the way, in case you were wondering, the "grow them 1cm/1inch long and sell them for money" idea that's been floating around for years has been debunked as an urban myth. Shame.)
(Photo by Eastop)
Related Categories
bathroom
,
household
,
items
Search for other related items