How can I reuse or recycle promotional nylon rucksacks?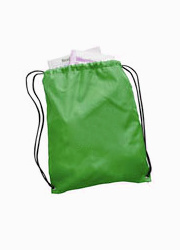 I had an email from Melanie the other week:
My name is Melanie and I work for an events company so have promo gifts! We have quite a few nylon rucksacks that we would like to recycle but don't know where we would take them! Can you please let me know if you can help?
We've covered reuses for single broken backpacks before but this query is more of a recycling-en-masse one.
Depending on how many is "quite a few", try offering them on your local Freecycle/Freegle group or offering them to a local scrap store — the latter might not be in a position to use them themselves but they have great contacts with local schools, charities and playgroups who might be able to use them.
If it's not possible to pass them on for reuse (for example, because they're damaged stock or because the company who paid for them in the first place would object), you'll probably be able to find a textile recycling company who would take them. (Depending on the company, they might only take very large quantities of textiles but you might be able to find an intermediary – for example, charity shops are often paid by weight for their bags of "rags", items they can't sell themselves.)
Any other suggestions?
Related Categories
clothes and fabric
,
items
,
office
Search for other related items