How can I reuse or recycle perspex display props?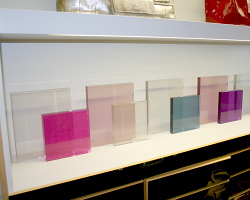 We've had an email from Joe, who works for a fancy handbag designer with a number of select boutiques around the UK:
I am trying to find a way to recycle these display Perspex props. We used them in lots of our London stores and have loads of them. Sadly they are mostly all damaged so I don't think anybody else would want them.

I really don't want to throw them away and am trying to find out what to do with them.
It is possible to recycle perspex (aka plexiglas, lucite or acrylic glass) but it's not widely done post-consumer — I can only find details of a scheme which aimed at collecting offcuts & waste from perspex manufacturers. (In case anyone is interested, it was the Amari Recycling Initiative – does anyone know any post-consumer collection?)
Even damaged, the raw material might be usable by makers/crafters. Local art schools (or just the the art/design&tech depts of normal schools), hacker/maker groups (such as hackspaces) or scrapstores would probably all welcome the donation – and depending on the area/amount, might even be able to do a collection. Or someone on Freecycle/Freegle might want them too.
Any other suggestions for recycling/reusing them en masse? Or individual projects for small pieces of perspex?
Related Categories
business
,
items
Search for other related items