How can I reuse or recycle old chipboard/particleboard?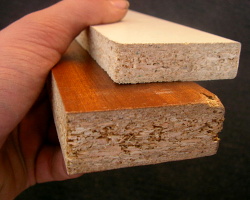 We've had an email from Ben, asking what he can do with some old chipboard/particleboard furniture:
The shelves have sagged in the middle so I doubt anyone else would want it.
Most people probably wouldn't want a saggy bookshelf as a feature in their living room but don't write it off just yet — it might be fine for shelving in a store room or a garage, particularly if a baton or two can be fitted underneath the warped shelves for extra strength. Offer it on Freecycle/Freegle, describing the condition and see if there are any takers.
Aside from that or if some of the shelves are too far gone, it could possibly be stripped for parts – the uprights could be used for shelves elsewhere – just make sure to use plenty of support so they aren't as likely to sag.
At the end of its life as furniture/shelving, chipboard can be composted but as it's held together with synthetic resin, often including formaldehyde, organic gardeners might want to avoid adding it to compost piles destined for veg plots.
For the same reason, chipboard shouldn't be used on a woodburner or, topically, a bonfire – the formaldehyde and other chemicals used in its production can release toxic gases on burning.
Any other suggestions on things that could be done with old chipboard shelving or bigger pieces of the same? Any more pointers on things not to do with it?
(Picture by Rotor DB)
Related Categories
household
,
items
Search for other related items