How can I reuse or recycle feathers and down?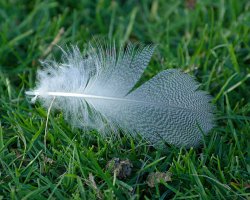 We've had an email from Arlyn:
I have two feather and down duvets which are a smaller size than the normal single, which I have had for years but not used much. I have moved house and even brought them with me but have to get rid of them. Surely there is some use for the feathers and down. It feels still in good condition inside.
Using it as stuffing for other things – craft projects or adding more bulk to cushions or pillows – is the first idea that springs to mind. Anyone go any other suggestions?
Also, anyone got any thoughts on how they would compost? They're organic in origin, obviously, so would probably break down quite easily – but I suspect they are treated with nasty, undesirable chemicals before being used as stuffing – anyone know for sure?
(Photo by zumbari)
Related Categories
household
,
items
Search for other related items