How can I reuse or recycle a CD rack?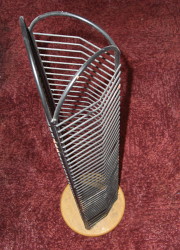 We've had an email from Lucy:
I've just moved house and now got shelves for my CD collection. What can I do with the racks I used to use? They're metal with a wooden base.
We moved to shelves from CD towers a few years ago when the place John used to work decided to skip three wooden CD shelving units (even though they looked brand new) – they're in a loving home now, housing CDs, random small items and in the case of one unit, my spare balls of wool. We took our old towers to our local furniture-focused charity shop and hopefully they went to a good home too.
But as for reuses instead of just passing them on – any suggestions?
Related Categories
household
,
items
Search for other related items