How can we make doorstep recycling better in the UK?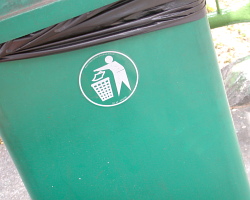 This is something that's been bugging me for a while but I've not known what to do about it – and it occurred to me the other day that some of you awesome, knowledgeable and inspiring people might have some suggestions.
The inconsistency in doorstep recycling across the UK drives me mad. Every council has a different way of collecting it, collecting different things and picking it up on a different schedule. For example, living in Leeds (as I did for a decade until three weeks ago), we had one green bin, emptied monthly, which could contain cans (but not foil or aerosols), all paper & cardboard, and plastics 1, 2 & 4 – but not glass, which had to be taken to bottle banks at supermarkets or tips, or tetrapak which had to taken to one of five locations spread across the city. Now living *just* over the border in the neighbouring council Bradford, we recycle cans (including foils & aerosols) & glass in one bin, paper & card (but not brown cardboard or brown envelopes) in another – but not plastics or tetrapak in either (which have to go to a tip).
Now I know in the grand scale of things, there are bigger things to be annoyed about but I think the confusion caused by such inconsistency and complexity really hinders the everyday recycling process. If in doubt about something, cautious people will leave stuff out – meaning stuff that can be recycled is going to landfill – or less cautious people will throw it in, which could jam up the whole sorting process. It also means recycling advice on packaging is vague – I've seen guidance which says "this packaging may be recycled in some places": gee, thanks for that.

Asking people to take stuff to their local tip/household waste site usually assumes they have somewhere to store it in the meantime, a car and time/inclination to go – and obviously having lots of people drive their carrier bag full of plastic bottles to the tip wastes a whole lot of resources in itself. Where we lived in Leeds, car ownership was low, there were no public transport routes from the estate to the tip and it wasn't really like you could go to the tip on the way to somewhere else because it was in a weird no-mans-land location — so a lot of glass etc ended up going to landfill unnecessarily as our neighbours just put it in with their other waste.
Now I know that different areas have access to different recycling facilities within the local area, that different recycling sorting processes require things to be sorted in different ways and that there isn't one right answer to how things should be done. But surely it could be done better than this.
So my questions are these:
do you think this inconsistency is a problem or is it just me? what do you think could be done better with doorstep recycling in general? What about "doorstep" recycling for businesses too?
Have you lobbied your local council to improve doorstep recycling or have bottle banks etc installed in your local area? Was it successful? What's your advice for someone else trying the same thing?
If individual councils will fob me off because they're isolationist, who do I go to next? Is there a council of councils? If a lack of recycling facilities is the problem, what can be done to make sure more are built or made more efficient?
Do you think it's a money issue (if enough money is thrown at the problem, it'll be solved), a people issue (people using existing recycling schemes wrong) or a bureaucratic issue (councils being isolationist and inefficient)?
I'd love to hear your thoughts on this – I know there are a few experienced political activists who read the site and environmental professionals so I'd love to hear your take on these questions, but I'd also love to hear about what everyone else has to say as consumers of doorstep recycling.
Related Categories
household
Search for other related items