How can I reuse or recycle (or upcycle) cheap glass figurines?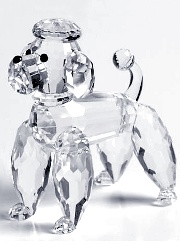 We've had an email from Yvonne:
My aunt moved into a care home quite suddenly last month so we've "inherited" a few boxes of her stuff to deal with. One of the boxes includes about 40 cheap chintzy little figurines made from glass. I don't feel right just throwing them away but really don't want them. What can I do with them? Can they be recycled with glass bottles?
On the latter question, I'd have to say check with your local council but probably not – different types of glass have different properties, which is why bottle banks don't tend to accept panes of glass or broken tumblers etc, and they probably won't want to take a chance on this one off load.
Anyway, it would be better to pass them on or reuse them before recycling them. Give them away to a local charity shop or on Freecycle/Freegle, or sell them on eBay – you could sell them as a job lot for car booters or the like if you just want to get rid of them ASAP. They might not mean much to you but some people will collect them and you might have just the figurine they're looking for.
Any reuse/upcycling ideas?
Related Categories
hobbies
,
household
,
items
Search for other related items