How can I reuse or recycle … narrow-necked glass bottles?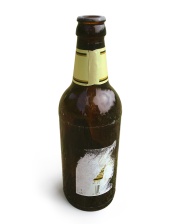 Since jars and the like are kept out for reuse, our glass recycling bin is mostly filled with narrow-necked bottles: olive oil bottles, balsamic vinegar ones, organic squash bottles and if any wine or bottled beer drinkers have been around, those bottles too.
They don't seem as easily reuseable as wide necked jars or bottles, and the oil ones are a pain to clean out thoroughly (or they are for me at least) – some of them have those "easy pour" tops in which make it even harder. But still, I'm reluctant to recycle them – mostly because there isn't doorstep recycling for glass around here and it's a chore to take them to the glass banks at the tip.
So any ideas to save me that tip-trip?
(Photo by levi_sz, c/o sxc.hu)
Related Categories
items
,
kitchen
,
packaging
Search for other related items