How can I make a waterproof(ish) recycling bin from recycled stuff?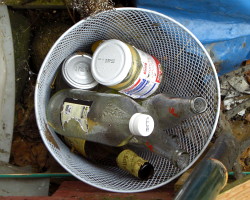 On the "how can I make a bookshelf out of recycled stuff" post a couple of weeks ago, one of our lovely regular readers Alice suggested we should do more posts that way around – how can you do/make something out by recycling or reusing old junk.
I've added the idea to our suggestions request page but haven't had any emails about it just yet, so am posting one from/for me instead.
We're lucky that we have pretty decent doorstep recycling in Leeds – we've got a green wheelie bin for plastic (1 and 4), paper, cardboard, tins/cans etc – but it doesn't include glass or tetrapak.
Our nearest bottle bank is frustratingly a drive away (why there isn't one on our low-car-ownership estate is beyond me) so we usually collect up a fair stash and combine it with another trip in that direction. But this means we more often than not have a large amount of glass jars and bottles in our tiny front garden – which is both untidy and a potential safety hazard. The tetrapak stuff is safer but the collection spot even further away so we go there even less.
We need a way to keep this stuff out of the way – and dry: we had a set of plastic drawers out there at one point but they just filled with manky water every time it rained (well, fresh water than quickly turned manky).
So we need a recycling bin/shed thing to hold this stuff in and I'd much rather make one than buy anything. It can't be too big because we've not got that much room and it needs to be reasonably easy to empty too.
Aside from looking out for an old bin (which are few and far between now since everyone's had council wheelie ones for ages), any suggestions for things to make it from? I'm not particularly handy but willing to give things a go. Any tips on how to keep it from filling with rain or with ever curious cats?
Related Categories
garden
,
household
,
reverse this
Search for other related items