How can I make a washing line cover using recycled materials?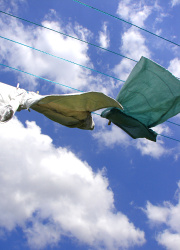 Because nothing particularly interesting has happened in my life over the last few weeks – I mean, aside from us moving house after nearly a decade in the old place and my best friend Katherine giving birth for the first time (*hello 14 day old baby Joe!*) – I have been unduly excited by the discovery of covers for outside rotary washing lines.
They're big plastic covers which sit on rotary washing lines, preventing the clothes from getting re-soaked every time there is a sudden but brief downpour — there are some clear ones that can be left on all the time, ideal for the UK where it goes from blistering sunshine to torrential rain and back again constantly throughout the day. I tell you – unduly excited – I can't believe I lived three decades without knowing about them. It's like the broccoli stalks revelations all over again.
The basic concept seems simple enough to make myself from scrap materials – I need a sheet of heavy-duty but flexible waterproof material, ideally clear, in the shape of my rotary line, some extra length to be sides (to stop sideways rain) and possible some cane or piping at the edge between the "roof" and the sides to give it some structure. We got a new mattress when we moved in here and I've kept the giant plastic bag that came in, which is a good start, and I'm tempted to befriend a local carpet fitter for some more similar stuff, which they get wrapped around the rolls of carpet. An old tent or gazebo covering would probably work too. Any other suggestions?
Has anyone made something similar for non-rotary washing lines? Once my eyes were opened to the concept, I started Googling around and found these Isle of Mull dryers which combine the cover and the hanging space in an inverted V-shape. Any other ideas?
Related Categories
garden
,
household
,
items
,
reverse this
Search for other related items