How can I make a rain chain using recycled materials?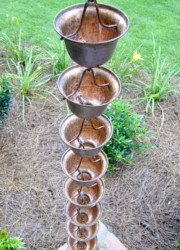 We've had an email from long time contributor Bobbie:
I'd like to make a rain chain out of recycled material. Something beautiful but functional and long lasting – the Wikipedia article which has some beautiful examples.
I hadn't heard of rain chains before but they seem like a fab idea: rather than hiding rain water in a boring tube, they make the drain/downspout into a feature – possibly not great for in constantly wet places like the UK but useful in dry climes and also as additional downspouts where a normal plastic one would look horrible.
So then, Bobbie's query: what recycled stuff can they be made from? My first thought when I saw the cup style ones on Wikipedia was bundt cake and other round/ring cake tins – I quite often see baking things like that at our local furniture-focused charity shop, and it would be perfect for someone who loved baking. Old paint cans, painted pretty colours, might work too.
I imagine steampunk fans could make very cool ones with random scrapped cogs and machine parts – and a little light rust would add to the look.
Any other suggestions?
(Photo from The Fun Times Guide)
Related Categories
reverse this
Search for other related items