How can I reuse or recycle baby stair gates and play pens?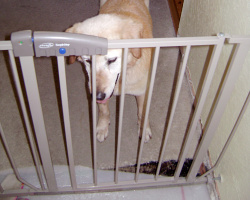 We've had an email from Karen:
How can I recycle a baby cot, stair gate and play pen?? Cant bear to throw them away but seems difficult to give away!!
It doesn't have to be difficult to give them away – join your local Freecycle/Freegle group, post an "offer" message and chances are someone will come to collect it from your house, at your convenience, within a few days if not hours (or post an ad on GumTree [like Craig's List in the UK] or on eBay – if your goal is to get rid of it, start it at 99p and mark it "collection only" and it's almost sure to go).
Or give them to a charity shop – it might have to be a furniture focused charity or charity shop but there should be one of those near you – and some places even collect furniture donations. The NCT also regularly organise local "nearly new" sales – for parents to pass items onto new parents in need.
As for reuses, we covered baby cots a few weeks ago – some nice ideas on there including making the cot into a bench seat/sofa for the growing kid's bedroom. Stairgates are also used by people with dogs as well as babies, to keep pesky mutts in or out of certain places – if you know anyone with dogs (particularly small ones), they might be interested. Ditto a play pen to some extent – they're useful for penning in all sorts of small animals, not just baby humans – someone who breeds cats or puppies might like to use it for a birthing area, or it could be used as a temporary run for ill/pregnant/new rabbits or chickens.
If they're still in good condition, it would definitely be best to pass them on – any other suggestions for how to pass them on easily? Or for reuses/recycling ideas?
(Photo, which illustrates my doggy point, by ewen and donabel)
Related Categories
baby
,
household
,
items
Search for other related items