How can I reuse or recycle an exercise ball/posture ball chair?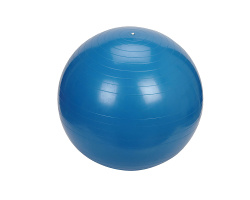 John is very taken with the idea of getting an exercise ball to use when he wants a change from his desk chair in our new office. He's used them at other people's desks and he likes the idea of bouncing while he works.
I've always poo-poohed the idea because we have cats who like to stretch up against furniture then dig in their very long, very sharp claws – not exactly compatible with inflatable furniture – but a friend told us his cat did that too and it wasn't a problem because the PVC plastic is so thick. Then suddenly, mysterious, he found himself sitting considerably lower in the chair thanks to a claw-sized slow puncture. Claws one, inflatable thing nil.
So we won't be getting on now but what are the options for reusing an old exercise ball? A single puncture or two could probably be repaired with a bicycle puncture repair kit but if the problem is more systemic, it might not be worth repair – so what else can be done with it?
I suspect with a bit of handiwork, they could still be used as seats – filled with beanbag balls instead of air – but I wonder if the sliced up "skin" could be used for anything else too…
Related Categories
hobbies
,
household
,
items
,
sports
Search for other related items