How can I reuse or recycle … a pvc yoga mat?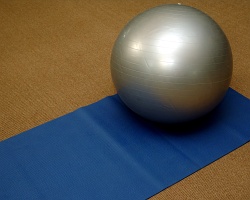 We've had an email from Paul Smith asking:
I'm really interested in how one would recycle a yoga mat? One of the old school, pvc based ones, not the eco friendly one (which I have now).
If Paul means the type of mat I think he means, they're a long thin piece of foam, about 6ft long and 2ft wide (185cm by 66cm ish) and about half an inch (1cm) thick. Depending on the requirements and the thickness/flexibility of the foam, they can either be rolled up like a camping bedroll or are left flat (the ones at my uni gym were like that).
So any suggestions for reuses? Or are there any recycling options if somewhere (like a gym) was getting rid of them in bulk?
Paul doesn't say what condition his yoga mat is in – some of the ones at the uni were bashed to smeg at the sides and going thin where they'd been doubled up – so re-use suggestions for falling apart ones would be good too, just in case.
(Photo by bharat – I couldn't find a picture without a ball in it too, so just imagine that's not there :) )
Related Categories
hobbies
,
items
,
sports
Search for other related items