How can I reuse or recycle … gone flat inflatables?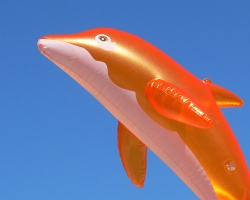 An email from Melinda Goodick:
In the course of seasons, we have accumulated many inflatable mattresses and beach/pool toys and also sledding tubes from the winter. They were fun, but once they go flat, the fun is gone. What can we do with them besides their intended use?
I'm presuming by "go flat" Melinda means they haven't got a valve for refilling with air. We've also run into similar "what shall we do with this?" issues in the past with inflatables when they've split along the seam and the holes too big to realistically puncture repair.
So, ideas?
(Photo by winjohn)
Related Categories
garden
,
hobbies
,
items
,
toys
Search for other related items