How can I reuse or recycle a vinyl coat?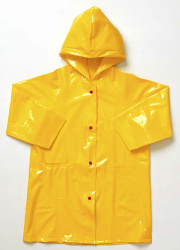 We've had an email from Maggie:
I've seen all your suggestions for reusing clothes but I've got an old coat that's vinyl not cloth. What can be done with that? It's got a tear right down the arm so can't go to the charity shop.
If the tear isn't in a very obviously place (perhaps on the underside or bodyside of the arm), it might be worth trying to repair it. I've not tried it but I wonder if, working with it inside out, whether a bicycle wheel puncture repair kit might work. Anyone tried anything like that?
Aside from that, it is certainly worth salvaging the material for use around the home or in craft projects. Obviously it depends on how it is constructed but I'd have thought the back panel would give you a nice flat piece of vinyl, and the sleeves opened out would be pretty good too. Take advantage of the fact it is waterproof and use it to make table protectors, swimming/gym bags, shelf liners – or if you're very handy with a sewing machine, there will probably even be enough fabric to make a smaller version of the same sort of coat for a child.
Any other suggestions?
Related Categories
clothes and fabric
,
items
Search for other related items