How can I reuse or recycle vinyl flooring/lino?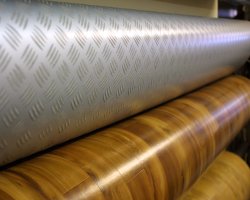 We've had an email from Penny:
I have some relatively new – but damaged – strips of vinyl flooring. Can they be recycled and if so how/where?
Penny doesn't say how big the strips are or whether they're completely damaged or just in part – if only bits of the strips are damaged, the good bits could be used to cover a desk/work bench to make it easier to wipe clean.
They could also be used in the garden – on top of a compost heap perhaps or if you've got an open-bottomed compost bin like ours, underneath it in case you want to move it in the future (we have a piece of wood under ours at the moment but I suspect the flexibility of vinyl flooring would make it easier to drag if needed).
Any other ideas? Anyone know about whether it can actually be recycled?
(I added "lino" (as in Linoleum) to the subject since I suspect a lot of re-uses would apply to either.)
(Photo by Maffu)
Related Categories
household
,
items
Search for other related items