How can I reuse or recycle car sun shades?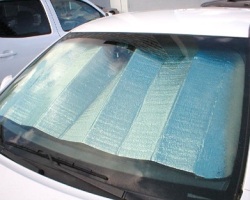 Because of all the random things on this site, I get a lot of spam emails from people trying to sell me those random things in bulk for a super cheap price. My delete key is all but worn out.
However, every now and again, a message comes through that's actually inspiring instead of annoying – and that was the case again this week when someone tried to sell me carshades – the things you put along your dashboard/rear window to stop turning the car into a giant dehydrator oven.
Last week, I'd seen someone using one of the silver-sided ones to reflect more sunlight into their garden and seeing the email yesterday made me wonder what else they'd be good for. I imagine the silver-sided ones (typically cardboard with a foil layer) would also work well behind radiators.
Any other suggestions? What about the ones that are just shades rather than reflectors?
Related Categories
household
,
items
Search for other related items