How can I reuse or recycle seed packets?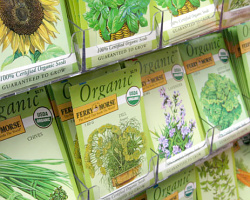 Cor, I worked hard in the garden yesterday – I was ill all last week so was a week behind on everything, and gardens don't tolerate being a week behind at this time of year, especially since I'm already a couple of months behind on some things!
I think though, aside from a few things for successive planting or winter crops, I've planted just about everything I want to try this year – a new garden so lots of experimenting — and lots of empty seed packets in my seed box.
Obviously they're just paper so could go in our recycling bin but I thought it might be interesting to hear if anyone uses them for anything creative – or to help garden organisation/labelling.
Any suggestions?
(CCA photo by LollyKnit)
Related Categories
garden
,
items
,
packaging
,
paper & stationery
Search for other related items