How can I recycled/pass on an old, working electric oven?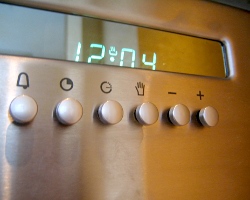 We've had an email from Richard:
We have 4-year-old electric oven in good working order which we would like to donate to a Charity. Any ideas?
We'll actually in a similar position soon – our (15+ year old) oven works for general cooking but not for the precise/high temperatures we need from it for baking etc, so we'll be getting a new one in the new year.
It might be hard to find a charity that would accept an oven – due to both its size and for safety reasons. Our plan was to offer it on Freecycle/Freegle, or via our local Gumtree (we've had more success with the latter) – passing it directly on to someone who could use it rather than going through a charity.
If you definitely want to pass it through a charity though, my only suggestion would be checking with any local charities that provide furniture or household items for people moving on from homelessness or other precarious situations. I don't know if they'd take it but Emmaus train formerly homeless people to test & refurbish household items before selling them on, so they might be in a position to take, test and pass it/sell it on.
Does anyone else have any other suggestions for how it can be passed on?
(Photo by MrDeeds
Related Categories
household
,
items
,
kitchen
,
technology
Search for other related items