How can I make a solar oven reusing and recycling things?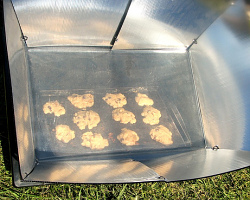 Aside from the rain we had pretty much all day yesterday, it's been a lovely start to spring – I've had the washing out on the line on a good number of occasions now, we've had a few breakfasts on the sunny balcony with the animals and the cats have been enjoying the novelty of sitting both in sunshine and in the house – something that's never happened to them before – and they've been getting toasty warm … which made me think "what else can I make toasty warm in the sunshine?" (Plus, we got our gas bill through yesterday for the cold winter – even relying on just the woodburning stove in the evenings and wearing lots of layers, it's still kerching!kerching!
Trying out a solar oven has been on my to-do list for a while – but they're expensive and hard to get in the UK so it makes sense to make my own instead.
There are how-tos for making them out of cardboard boxes and aluminium foil and better how-tos to make them more efficient – but I wondered if anyone had any suggestions of things to reuse or recycle for the materials involved in such a venture.
And does anyone have any ideas of ways to make things a little more permanent/weatherproof? With our propensity for April showers on otherwise glorious summer days, cardboard outside in the UK sounds like a recipe for disaster, not a nice slow-cooked meal.
Anyone make their own? Anything that's a must-do? Anything to avoid?
(Photo by margilevin)
Related Categories
garden
,
items
,
kitchen
,
reverse this
Search for other related items