How can I make a water butt/rain barrel using recycled stuff?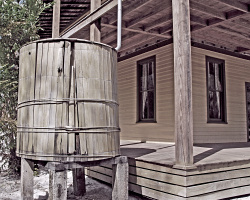 Last week's Reverse This question – about how to make a rain chain using recycled materials – has kicked up another question: how to make a water butt/rain barrel using recycled, reclaimed and repurposed stuff.
If you've got a rainwater barrel, it means the rain chain doesn't need to end up in an ugly drain and, of course, it also saves the precious rainwater for use around the garden or in grey water systems.
The specific requirements for the butt depend on what the water is being used for but most I've seen tend to be reasonably opaque (to reduce algae growth) and many, particularly commercially produced ones, include a tap or a hinged lid to make it easy to access the water.
Any suggestions? What have you seen being used by creative allotmenteers? Has anyone got any experience of making an old-fashioned barrel like the one in the picture?
Related Categories
garden
,
household
,
reverse this
Search for other related items