How can I reuse or recycle beanbag filler?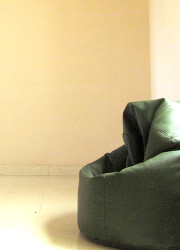 We've had a message on the Suggestions page from Jing:
Help! I have a beanbag which has flattened over the years and so I want to know a) what recycled stuff to refill fill it with and b) what to do with the useless little squished styrofoam bits.

Craft suggestions, if there are any, might be helpful for other people but please can I have suggestions that don't mean I have to handle the styrofoam; I have a deep and ridiculous fear of the stuff and can't bear touching it, looking at it, or the squeaky noise it makes when handled. Odd, I know, but as fears go it's pretty harmless.
Yes, the feel and sound of the styrofoam balls is pretty ick-worthy – but those little foam things are surely useful for something…
In the (admittedly not many) flattened beanbags I've seen, the flattening tends to be one of two problems: either the bag has lost some filler or, particularly in the case of more structured footstool-esque beanbags, the fabric has lost its tautness and gone floppy. It doesn't tend to be the filler that's the problem – because the balls are so springy and tiny. Adding some more filler or reducing the size of the beanbag would solve the first problem, but the latter would need a new cover – essentially making a new beanbag for the old filler.
As for other uses, I've used beanbag filler for juggling balls but the styrofoam stuff doesn't really have the right weight to it to be used on its own in there. It would be ok in (well sealed) soft toys though.
Some people use it in potting soil to aerate it – instead of perlite – but there are pollution/chemical leakage issues with that so I wouldn't recommend it.
Any other suggestions? Any suggestions on recycled things that could be used in the place of more shop-bought filler?
Related Categories
household
,
items
Search for other related items