How can I reuse or recycle Ariel Gel Dosing Devices?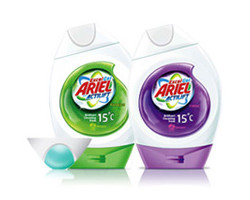 Granny Cain emailed about Ariel Gel Dosing Devices:
Enough!! I now have enough dosing devices for each child in a classroom…. but what to do with them? Tried poking a hole through the side, adding twine and making a bird feeder, but it kept flipping over. Needed some technical refinement… too much for my puddle brain. So folks please help me out!
I hadn't heard about these dosing device but by the looks of it, they're the new version of ye olde washing powder dosing balls but according to the only tiny picture I can find of them, more of a bowl than a ball, and apparently it "contain[s] an integrated soft plastic sphere", whatever that means. (Is that right?)
Firstly, it's obvious but since "reduce" is the most important thing to do, it's worth repeating: really try not to collect any more. Liquid laundry detergent has a far bigger carbon footprint in packaging and transport costs – the gel is supposed to be a bit better on both accounts (and does promote itself on the idea that it can be used effectively at low (below 40C) temperatures) – but still.
As for the stash that's already been collected, I'm struggling for ideas – either on how to make them into a bird feeder or anything else – since I've not actually seen one in the flesh — so over to you guys! Any reuse suggestions or recycling ideas?
Related Categories
household
,
items
,
packaging
Search for other related items