How can I reuse or recycle a Cillit Bang spray bottle?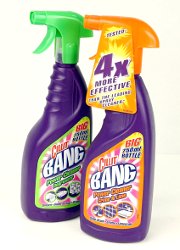 Shelagh emailed to ask:
How can I reuse a Cillit Bang spray? It seems impossible to remove the nozzle to fill with a product.
I've never used it so I don't know what the bottle is like – but I'm going out to the shops in a few minutes so I'll have a good look at one (that's guaranteed to get me some weird looks in the cleaning aisle ;) ). I'll also check what type of plastic it is for recycling purposes (my guess would be HDPE, plastic number 2, which is widely recycled, but I'll check).
We've covered pump action spray bottles before – people reuse them as plant spritzers or personal misters, or refill them with vinegar or homemade cleaning solutions to make their own cleaning sprays — but all of those reuses require getting into the bottle again. Anyone got any helpful hints on how to remove the nozzle section from a Cillit Bang bottle without breaking it?
Any other reuse ideas for if the nozzle section is stuck on?
Related Categories
bathroom
,
household
,
items
,
kitchen
Search for other related items