How can I build a barbecue reusing or recycling stuff?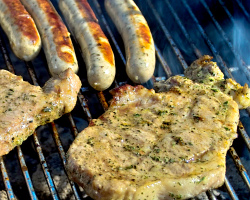 In a bit of an impromptu barbecue-themed week, I thought I'd ask about building the key part of the experience: the barbecue itself. This is partly because I'm interested in hearing bbq ideas and partly because I'm thinking of building myself a little smokehouse for my birthday and I suspect there will be a bit overlap – and asking about smokehouses may be a little obscure.
So anyway, barbecues. John's dad, my father-in-love, has built a number of brick barbecues – a squared-off u-shape of bricks to about waist height – from salvaged bricks: I think he used grill kits for the grill bits but there is a possibility he made the coals pan from scrap metal. I'll ask him tomorrow.
But brick structures tend to be a bit permanent – what about slightly more mobile ones? Ones made from old oil barrels (or ideally non-oil metal barrels) seem quite common the DIY bbq world. Old gas bottles can apparently be used for smaller versions but there are more safety concerns with initial cutting.
Any other suggestions? Any ideas about things to use for the coals pan or the grill itself? And what about alternatives like fire pits?
Related Categories
garden
,
reverse this
Search for other related items