How can I reuse or recycle overcooked barbeque meat?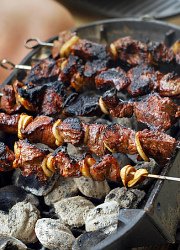 Inspired by thinking about barbeque-related food packaging on Monday, we're having a bit of an impromptu bbq themed week here on Recycle This. This is a less a "reuse or recycle" and more a "how do you use it up?" question…
There always seems to be a few burgers or sausages leftover at barbecues – left on the grill or the keep-warm grill even though no one wants them and they go dry or turn to indiscernible black lumps.
Of course this situation could be avoided all together but only cooking the correct meat (hard to judge) and obviously it's better to take them off before they reach that point when they're still edible and have them as leftovers at some point but does anyone have any recipes for dried out meat? Our fussy-when-she-wants-to-be dog turned her nose up at dry-but-still-edible burger the other week but I suspect the cats would have gone for it if we'd been at home.
And what about when they've gone beyond that and are, essentially, greasy charcoal? Can they be crushed/ground up and used as a soil fertiliser like other charcoal?
(Photo by DeusXFlorida
Related Categories
food
,
garden
,
items
Search for other related items