How can I reuse or recycle a bamboo blind?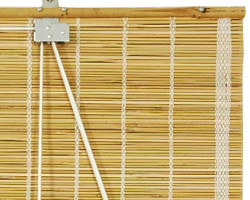 We've had an email from Kaye:
I've got a bamboo blind that I no longer need. What can I do with it?
If it's still in good, usable condition, I'd suggest trying to eBay it or better still, put it on your local Freecycle group – someone else might be able to use it as a window shade, save them buying a new one.
Aside from that, if it's the thin type of blind (the stuff that's a bit thinner than the one in the picture), you could remove any blind fittings and roll it up to use as a picnic/beach mat, or could cut it down into being a table cover or placemats – a good pair of scissors will probably cut through it.
Heavier stuff can be used as screening in the garden – it can be used to make nice curves around paths and the like if you lie it on its side.
Any other suggestions?
(By the way, we've already covered slatted window blinds.)
Related Categories
household
,
items
Search for other related items