How can I reuse or recycle … seagrass matting?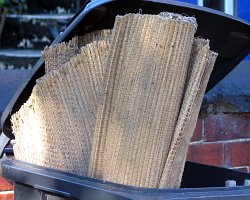 A neighbour is throwing out some old seagrass mats. They're about 6ft long (2m) by 4ft wide (120cm) but are water/mud damaged up the entire length of one side.
They're a basic horizontal weave – like really, really big bamboo placemats – so are quite flexible if you roll them with the weave, but hard to roll against it (if that makes sense).
Any suggestions about what could be done with them?
(I'm calling it seagrass matting because that's what it looks like to me – if I'm wrong though, please let me know what it is.)
Related Categories
household
,
items
Search for other related items