How can I reuse or recycle straw coasters & placemats?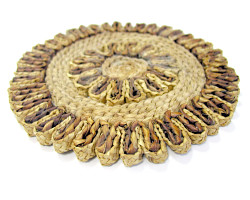 We've had an email from Katy:
Cleaning out my mum's cupboards I've found some tatty straw tablemats and a set of coasters that must be as old as me! Can I compost them?
Maybe. A cautious composter might want to leave them out – you don't know if the straw has been treated with anything and the thread used to hold them together might be synthetic too – but if you were less concerned about things like that, the straw ((or similar woven wood, if it's not actually straw) would probably rot down pretty quickly once it got warm & damp and you could just remove the thread if it remained intact.
However, before you throw them on your compost heap, you might want to consider reusing or upcycling them first.
How about using them to make a fun casual bag or purse? There is a how-to on Craftster on making a bag from a big placemat – I'm sure it could be modified if the placemats were smaller and not embroidered. Very floppy straw placemats can apparently be made into hats as well.
Is the tattiness just at the edges? Perhaps they could be neatened up with a bit of sewing – attach any stray strands back into the mat and/or cover the edges with strip of fun fabric. If one side is tatty or stained but the other side ok, they could be covered with a thin layer of fabric – the straw would still protect the table.
Any other recycling ideas?
Related Categories
household
,
items
,
kitchen
Search for other related items