How can I reuse or recycle hairdressers scissors?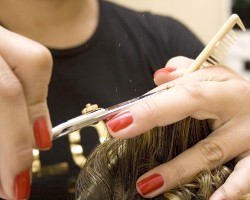 We've had an email from Tasha:
We are a hairdressing scissors company trying to find a charity we can send old hairdressing scissors too?

If you know of any could you please let me know.
I don't know of any – does anyone else?
What about charities that collect scrap metal in general? From what I've read, hairdressers scissors tend to be make from steel and that's widely recyclable – does anyone know of any charities that collect steel to raise money from recycling?
Related Categories
business
,
household
,
items
Search for other related items