How can I reuse or recycle broken scissors?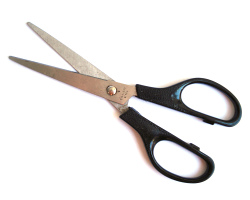 (Hi! Sorry for the lack of posts recently, I've been ill and have mostly been slumped on the sofa in a heap. Feeling a bit more human now so without further ado…)
We've had an email from Lesley and Julia, explaining:
We have a pair of scissors at work. There's nothing wrong with the blades, but the rubbishy plastic handle has broken off. Any ideas?
I remember a pair of all metal scissors breaking at the hinge when I was in my teens, and I kept the blades to use instead of a craft knife — but the individual blades were nowhere near sharp enough or thin enough to do that well.
So any other suggestions?
Related Categories
household
,
items
,
office
,
paper & stationery
Search for other related items