How can I reuse or recycle Tabasco sauce bottles?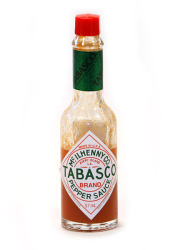 Rhiannon left a message on our suggestions page:
I was wondering if you have any ideas for an empty Tabasco sauce bottle? They are so pretty, but due to the very narrow neck (so that you can only shake out small droplets at a time) it is unsuitable for storing anything that I can think of.
We've covered narrow-necked glass bottles on here before – beer bottles or wine bottles and the like, but Tabasco sauce bottles are that bit narrower than most.
I've seen the teeny-tiny single serve Tabasco sauce bottle used as jewellery but the normal size bottles are a little too big for that. ;)
They might be useful for liquids that need to be added drop-by-drop – food colouring for example, but that type of thing tends to come in a little bottle with a dropper thing anyway.
The largest standard size (150ml ish?) bottle would make a cute single-stem vase (if I recall correctly, they tend to have a plastic dropper thing in the top but that can usually be pulled out) but the standard size bottle would be too small for everything bar the absolutely thinnest stem.
So suggestions?
Related Categories
household
,
items
,
kitchen
,
packaging
Search for other related items