How can I reuse or recycle … out of date soy sauce?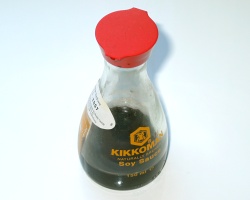 We've had an email from Katy Duvall:
I was cleaning out my cupboards yesterday and found forgotten nearly full bottle of soy sauce. It was so forgotten about that it went out of date nearly two years ago! My boyf thinks we should just bin it but it's such a big bottle that I'd rather not. Any ideas?
I'm always skeptical of dates on condiments – or rather I forget to check them and find we've been using the same jar of mustard for about three years – so if it looked ok, I'd be tempted to use it anyway – but any other suggestions?
I wonder if dark soy can be used for dyeing/staining purposes… At the moment, I can only think of using it to "antique" paper for making ye olde treasure maps but I wonder if it can be used on wood or the like too. Anyone know?
Related Categories
food
,
items
,
kitchen
Search for other related items