How can I reuse or recycle laundry detergent/fabric softener bottles?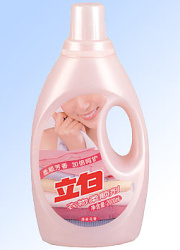 We've had an email from Lisa, asking:
How can I reuse laundry detergent and fabric softener bottles?

I have a bunch piling up by my washing machine – the ones you pour, not with a spout on the side.
We've bulk bought fabric softener in the past and I've decanted it into a old, small bottle to make it easier to use – the giant bulk bottle could be stored out of the way in the cellar and the little bottle just refilled once a month. You can do the same thing with big boxes of powder – with handles, those pouring bottles are far easier to carry and use than a big box. They are also moisture tight so if the bottle is dry when you pour in the powder in the first place, it's less likely to cake than in a cardboard box.
That's only two bottles though – so what else can you do with them? Carolien Adriaansche makes them into cute creatures and many of the bottles that I see are nice colours or even pearlised, so you could use the plastic to make things like bold jewellery.
Any other suggestions?
Related Categories
household
,
items
,
kitchen
,
packaging
Search for other related items