How can I reuse or recycle plastic tube coathangers?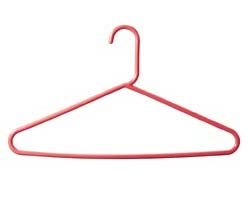 We've had an email from Nise:
Hello, I know you have featured wire hangers, and plastic shop hangers, but how can I recycle/reuse those plastic tube hangers that became ubiquitous in the 80's/90's?

Please help, I have several dozens! They multiply when I'm not looking!
They were ubiquitous, weren't they? I have a good number in my wardrobe too.
If they're still in good condition, I'd offer them to charity shops/thrift stores – they don't tend to take the flimsy plastic ones from shops (or at least they don't around here) but they might be more interested in sturdier ones. Someone on one of the old threads also suggested giving strong coathangers to churches or community centres to use in the cloakroom – these might be ok for that too.
Aside from that, you could use the odd one for a homemade peg bags – but that's not going to use up multiplying dozens.
Any other suggestions?
Related Categories
household
,
items
Search for other related items