How can I reuse or recycle plastic food wrapping/bags?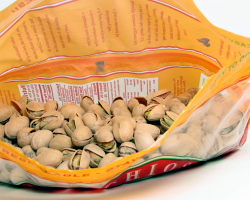 We've had an email from Fiona, saying:
We eat a lot of dried fruit, nuts and seeds and, when we're in a jam/marmalade/chutney making mood, a lot of sugar too. Which means we have a lot of empty plastic food bags.

Would love to know how to re-use or recycle these.
I would love to know how to re-use or recycle them too – I suspect those type of bags make up the bulk of our to-landfill waste at the moment.
I saw some storage boxes/baskets made from old chocolate bar wrappers at a cool hippy shop the other week and I'm thinking of giving that a go with these type of bags and other wrappers once I finished The Great Can Weaving Project of 2008 (don't ask) – I'll post on how that turns out if/when it turns out.
But what about other ideas?
(Photo by sritenou – and if you're interested in pistachios, check out the post that started this whole website nearly two years ago :) )
Related Categories
household
,
items
,
packaging
Search for other related items