How can I decorate a pink-obsessed 15 year old's bedroom recycling or reusing stuff?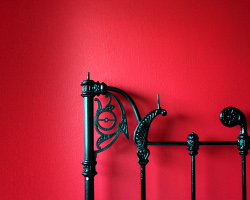 We've had an email from Maja:
my daughter Tayeliee is in her "think-pink" state – everything around her must be very pink or very cute.

Her room is already stuffed with pink vases, pink lamps, pink chairs etc. but I think there is some trash-treasure that could be nice room deco. I don't know exactly how to say it… well, is there any way of recycling trash into cute room decos for a 15 yr old?
I think it'll depend on what she's into really but when I was that age, I had loads of CDs and remember decorating old shoeboxes with salvaged, scratched-up vinyl records (45s) to make CD storage – I liked the clash of the old and the new.
Other ideas: if she likes candles, you can made trash-candle holders out of old tin cans (punch holes in the side with a hammer and nail to make pretty patterns) or CD cases; repurpose fabric from old pink clothes to make hanging storage pockets and, I don't know if it'll match Tayeliee's version of cute but as I've said before, I think these little guys made from old plastic bottles are utterly adorable.
Any other suggestions?
(Photo by thesaint)
Related Categories
reverse this
Search for other related items