How can I make iPod accessories by reusing or recycling stuff?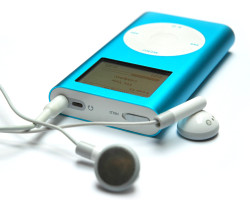 We've had another email from Maja, saying:
I bought myself an iPod AT LAST. It's a violet Nano, and I need some decos for it, like a cute sock or a charm.

What can I recycle into some nice iPod stuff?
Playing with Nancy's necklace idea recently, I made myself a cute charm out by stacking tiny circles of plastic on a piece of thin wire – the circles punched out with a regular hole punch so they were both tiny and even. A few pretty buttons on a length of pretty thread would work in the same way.
As for the sock, you could quickly and easily sew a little pocket using fabric any item of old clothing – I like it when upcycled things include features of the original clothing, like buttons or belt loops from the original item.
I'd also be tempted to crochet, knit or weave some unusual material just to see what happens – the pocket is so small it wouldn't take long to try out a few different things. Narrow strips of old carrier bags? The shiny insides of crisp packets? The wire from old knackered headphones?
Any other ideas?
Related Categories
reverse this
Search for other related items