How can I make a wood store reusing or recycling stuff?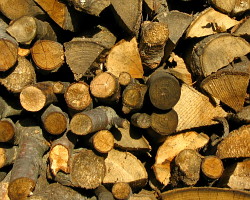 Our woodburning stove – one of the things we'd been obsessing about since we saw the house for the first time in March – was finally fitted last week and boy, it's nice. It's a small one – for heating a single room rather than the whole house – but we spend most of our evenings in that single room so it's fine, in fact it's better than wastefully heating the whole house (either with a bigger stove or with central heating, as we used to do). The stove is also certified for use in a smoke controlled zone – we got a certified one not to blindly follow the rules but because it means they burn more efficiently with less emissions.
John's dad is one of those people who knows whenever a tree is being cut down within a 10 mile radius so we've already got a big stack of logs – some seasoned and ready to burn, others fresh cut so will have to left to dry. They're currently stacked on an old pallet (to lift them off the ground) and covered in a tarp but with all the wind and rain we've been having lately, that doesn't seem to be enough, and anyway it's not exactly convenient where it is at the moment so we're thinking we'll build a better wood store nearer the house.
I've not had to build one before but I imagine there are two ways of doing it – a top opening trunk or more of a workbench, with a solid top and either doors or a flexible plastic cover to the open front.
For making the former, I'm think we'd probably be best off making a frame out of timber then covering the side/making the hinged lid out of any flat pieces of wood to hand (for example, John's dad has some salvaged old fence panels to hand and also some old school table tops), while for the latter, I'd probably look out for an old kitchen counter top for the surface — it would make a nice potting bench too. Any other suggestions or advice?
What about repurposing existing items of furniture? I guess a standalone wardrobe would work or a dresser – although they'd have to be painted/treated to protect them from the elements. Any other ideas?
Related Categories
garden
,
household
,
reverse this
Search for other related items