How can I make a sturdy bookcase recycling or reusing stuff?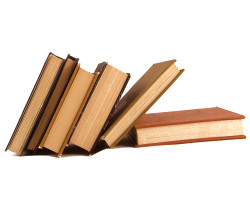 We've had an email from Alice who wants to turn this whole crazy thing on its head:
Instead of an item that I want to recycle, I'm actually working backwards here – does anyone know what kind of waste could be used to build a sturdy bookcase?
A few ideas spring to mind from previous posts – namely snowboards (and I guess skateboards would be similar), hollowcore doors – and old hollowed out televisions. There is also a suggestion on making shelves out of old books but I suspect that's more decorative than sturdy.
If you're interested in an industrial look, you could use stacked metal food cans (or decorated old paint can) between the shelves – and depending how you do it, they could be used for secret storage too – or skip-diving might turn up some breeze blocks or the like (it might get heavy quickly but red house bricks would look cool).
Any other suggestions?
(Photo by GiniMiniGi)
Related Categories
household
,
items
,
reverse this
Search for other related items